Dr. Robert Jack Downs
(1923 – 2015)
Jack was in route from the Philippines to the US in 1945 and was at Manus Island in the Admiralties when the war ended. Receiving his first leave after 4 years and 3 months of service, he married his high school sweetheart, Rosa Joy Griffin. The Navy then assigned him to the Optical Instruments School in Washington DC. After graduating from this school he was sent to the Instructor's Training school, then reassigned to the Optical School to teach introductory optics and repair of bridge and navigation instruments. Discharged in 1947, Jack entered the George Washington University as a physics major, but after 2 years changed to plant physiology under L.E. Yocum. As a student he served as a laboratory assistant in physics and in botany, and had the opportunity of assisting Lyman B. Smith, a plant taxonomist at the Smithsonian Institution. This relationship lasted over 30 years, resulting in junior authorship of more than 100 new species, several taxonomic publications on Xyridaceae and other plant families to be included in the Flora Ilustrada Catariensis, culminating in sharing the Henry Allan Gleason award for Lyman Smith's 3 volume monograph of the Bromeliaceae.
Upon receiving his MS degree, Jack joined in the study of solar radiation and the solar constant with Secretary Charles Abbott's Astrophysical Observatory at the Smithsonian. After about a year he left to join H.A. Borthwick's USDA Pioneering Research Laboratory for Plant Physiology, Beltsville Md. In this laboratory he conducted research into the regulatory effects of light on plant growth and development while completing his doctoral work at night. His education continued by taking night courses in electronics, instrumentation, experimental design, several workshops on electric lamps and lighting design, and a summer short-course on measurements engineering at University of Arizona.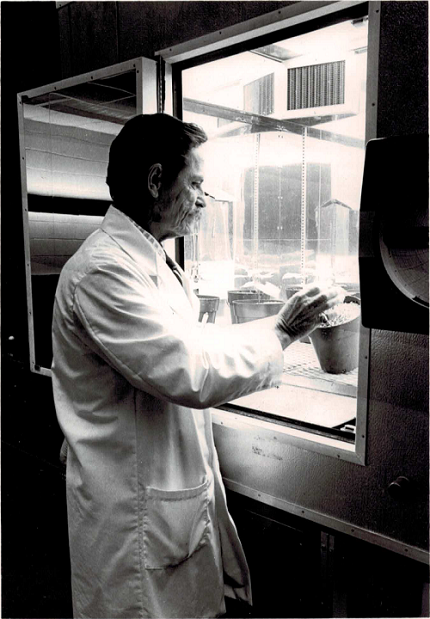 Jack became involved in design of controlled-environment facilities, a necessity for the type of
research being conducted at Beltsville, and in 1965, as a result of this experience, was selected to join NCSU as Professor of Botany operations of the Southeastern Plant Environment Laboratory, usually called the Phytotron. Dr. Downs remained as Director of the Phytotron until retirement in 1993. Jack and Joy loved North Carolina and the NCSU School of Agriculture and Life Sciences.
Dr. Downs was a member of American Soc. Agricultural Engineers, Am. Soc. for Horticultural Sci., Am. Soc. Plant Physiology, Botanical Society of America, International Soc. Biometeorology, Sigma Xi, Phi Epsilon Phi, and Phi Alpha Xi.
He served as President, Washington Section, Am. Soc. Plant Physiology; Representative from ASPP to the Agricultural Research Institute and to the Agricultural Board; Rapporteur on controlled environment to the World Meteorological Organization. He also served the Am. Soc. Agricultural Engineers on the Bioengineering Committee, Sub-committee on Environmental Measurements; Liaison between ASAE and ASPP; Environment and Plant Structures Committee; ASHRAE Liaison Committee; Chairman Sub-committee Plant and Animal Physiology for ASHRAE Guide and Data Book. He was a member of the Plant Growth Chamber Working Group, Am. Soc. Horticultural Sci. and the North central Region Committee on Plant Growth Chambers. He also served as Associate editor of the ASAE Structures and Environment Div. and was Assoc. Editor, Biotronics.
Dr. Downs published about 130 papers and frequently served as a consultant on plant growth lighting, biological facilities planning, and design of controlled-environment laboratories.
In addition to sharing the Henry Allan Gleason award, he received the Alex Laurie Award from the Am. Soc. Horticultural Sci., the Profile Award from WPTF Radio, and was selected as a Tar Heel of the Week by the News and Observer.
His wife of 54 years died September 25, 1999. He is survived by his daughter Kathleen Cheryl of Wake Forest and four sisters Betty Halley of Portage IN., Georgiana Inskeep of Colorado, Caroline Makanos, and Pamela Zale in Ohio.